ITA | ENG


Tel. +39 081 861 1006
Fax. +39 081 861 1006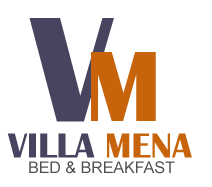 Contact us
For any inquiry or reservation please fill out the simple form below and we will contact you as soon as possible.
VILLA MENA


Via Trav. Andolfi , 27/31
80045 Pompei Scavi (NA)
Italy

Tel./Fax +39 081 861 1006
Mobile. +39 338 864 1357
+39 392 693 0716

Email:
info@villamena.eu
Breakfast
The position of the B&B Villa Mena is optimal to move to the coast and Sorrento to Salerno, Paestum, so to Naples and the Vesuvius and the archaeological sites of Herculaneum and Pompeii, the islands of Capri, Ischia and Procida.
BED & BREAKFAST POMPEI
VILLA MENA
Via Trav. Andolfi , 27/31
80045 Pompei Scavi (NA)
Italy

Email:info@villamena.eu

info:
Tel/Fax.
Mobile.



+39 081 861 1006
+39 338 864 1357
+39 339 614 7694